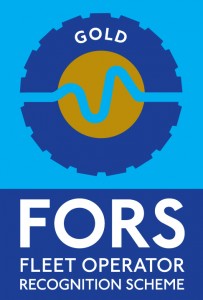 FORS is pleased to announce that there has been an increase of 129% in Gold accredited operators, since the scheme was rolled out nationally earlier this year.
The scheme now boasts 87 Gold accredited companies across the country, which represents over 21,700 vehicles.   These companies have demonstrated their commitment to progressive improvement, learning from best practice and championing the values of the FORS Standard.
Steve Agg FCILT, Chairman of the FORS Governance and Standards Advisory Group said: 'We are delighted with this rapid growth in Gold accredited operators. This demonstrates the industry's commitment to raising standards. We will work with current and new organisations to ensure that more operators graduate through the scheme and that the benefits of FORS are experienced nationwide.'
Since FORS was established as a nationwide scheme in February, operators throughout the UK have been able to benefit from FORS accreditation, showing their commitment to improving professional standards. The large increase in Gold accredited operators has been remarkable, demonstrating both the popularity of FORS and the demand for a single professional standard nationwide.
If your company would like to progress to silver or gold level you can find all the information you need about how to progress on the FORS website here.