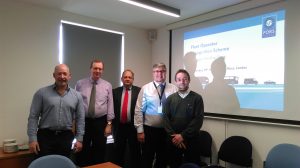 The FORS Passenger Working Group met in Birmingham recently to review the proposed changes to FORS Standard version 5.
Over the last 18 months the group has provided guidance on FORS development for bus and coach operators. The results of their work can be seen in the revised Standard with new or enhanced requirements including vehicle requirement V5.2 'Load safety for passenger carrying vehicle (PCV)', and operations requirements O4 'Passenger safety' and O7 'Counter terrorism'. The need for DBS (Disclosure and Barring Service) checks (where relevant) and prescribed route risk assessments are also key highlights taken from the group.
The revised Standard makes reference to PCV operations throughout, making it more relevant than ever before for passenger transport organisations.
The group will meet again in 2019 to discuss further potential benefits for PCV operators.
"Without doubt the group has been instrumental in developing FORS for bus and coach operators. I'm confident that we have a revised Standard which the passenger industry will appreciate, and I look forward to working with the group to investigate potential benefits to PCV members," said James Tillyer, FORS Manager.