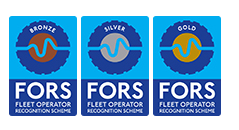 FORS has recently gained their 300th Silver accredited operator, highlighting the commitment of the fleet industry to raising professional standards nationwide. This landmark demonstrates the popularity of the scheme and the desire of FORS operators to excel through the accreditation levels.
Some of the industry names honoured with the accolade of FORS Silver accreditation include: G Webb Haulage Ltd, Crosswater Ltd, SAS International , TNT UK Ltd, Apollo Distribution Solutions Ltd JK Rail Ltd, J&M Haulage Ltd and BAUER Equipment UK Ltd.
Fleet operators who hold FORS Silver accreditation are actively committed to drastically improving safety, environmental impact and efficiency through a range of initiatives. There is a series of criteria that operators must consider and demonstrate a commitment to in order to be awarded with FORS Silver accreditation.
Silver accreditation is awarded to high-quality operators who are dedicated to becoming safer and more efficient, while reducing their environmental impact. To find out more about graduating to Silver accreditation and beyond, visit: /cms/what-is-fors/how-do-i-progress/