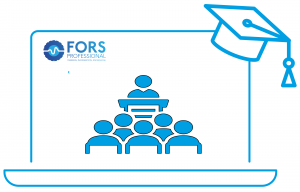 You can renew your expired FORS Practitioner qualification by attending the free one-day FORS Practitioner Recertification workshop on Monday 12 July.
The FORS Practitioner qualification, which expires after five years, can be renewed for a further five years by attending the FORS Practitioner Recertification workshop. The July course is suitable for FORS Practitioners who qualified up to July 2016, therefore whose qualification has already expired, or is expiring by the end of June this year. If you're unsure about your qualification's expiry date, you can check your certificate or email training@fors-online.org.uk.
To book your place onto the FORS Practitioner Recertification workshop, click here. The six-hour online course is delivered in two three-hour sessions on the same day, and you must attend both sessions in order to re-qualify as a FORS Practitioner.
Please check the FORS Professional cancellation policy before booking your place(s) and note that cancellation charges also apply for free training.