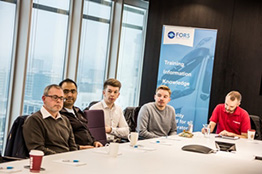 FORS has launched a new one-day FORS Practitioner recertification workshop – the free to attend training is aimed at current FORS Practitioners wishing to renew their qualification.
The FORS Practitioner certification, awarded to those who have completed  all nine workshops in the FORS Practitioner series, is valid for five years. The first Practitioner certificates were issued in 2012 and these FORS Practitioners are now eligible, and encouraged, to attend this new workshop.
The one-day workshop offers Practitioners an opportunity to refresh their knowledge and understand the changes to the FORS Standard. It will provide delegates with updates on previous Practitioner workshop subjects, as well as an insight into the specific evidence needed for the new Silver and Gold requirements.
Any eligible Practitioners, whose certification is due to expire this year, should have received an email inviting them to attend one of the two dates currently on offer in June or September. If you think you are eligible but have not received an email, please contact the helpline on 08448 09 09 44 or email marketing@fors-online.org.uk. Further dates will be released later in the year for those whose certificate was issued in 2013.
The FORS Practitioner qualification can help you to meet a number of the FORS Standard requirements, including M3 Responsible person, S7 Fuel and emission, S8 Road risk and G6 Professional development.