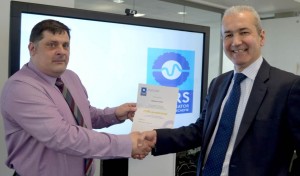 FORS is pleased to announce its 300th practitioner. This significant milestone reveals the popularity of the FORS practitioner workshop programme and demonstrates the impressive level of commitment to professional standards by FORS accredited operators.
All operators accredited by FORS have the opportunity to become a FORS practitioner. In order to become a FORS practitioner operators must complete each of the nine FORS modules providing guidance on topics including: road transport policy; work related road safety; safe and monitoring road fleet performance.
Ron Searle FCILT, Head of Group Transport Risk and Compliance, Travis Perkins Plc, said: 'After achieving FORS practitioner status Travis Perkins Plc has experienced an improvement in road user safety across the board as well as a reduction in fuel use. Our drivers and entire fleet are now at an exceptional standard and Travis Perkins Plc continues to demonstrate a commitment to raising professional standards for our staff, customers and the industry.'
Operators are encouraged to attend the workshops and are given FORS practitioner status once they have completed the programme as well as assisted their organisation in achieving or maintaining FORS bronze accreditation thus demonstrating their commitment to enhancing professional standards. The practitioner programme is designed to address organisational culture as well as bridge the knowledge and skills gap for managers.
From September onwards operators nationwide will have access to the invaluable practitioner programme as the scheme is rolled out nationally. FORS is keen to ensure that the FORS practitioner programme is accessible to all operators as the scheme grows nationally.
Steve Agg FCILT, Chairman of the FORS Governance and Standards Advisory Group said: 'We are thrilled to announce the 300th FORS practitioner. As more and more FORS accredited operators are awarded with practitioner status, there are now many operators nationwide demonstrating a commitment to continued professional development in road transport operations. This showcases a firm commitment to improvements in road safety, sustainability and raising professional standards.'
For more information about becoming a FORS practitioner, click here.