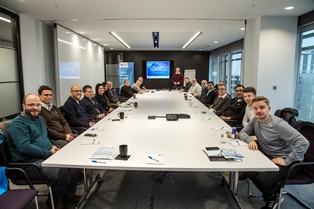 FORS is running four FORS Practitioner workshops in Ballymena in February. Don't miss out on the chance for you and your transport team to attend this training which is designed to assist and develop transport professionals.
FORS Practitioner is a series of ten workshops covering all aspects of fleet management. The workshops are open to all FORS members and can be attended individually, and in any order. A FORS Practitioner qualification, which is valid for five years, is awarded to those who attend all ten workshops in the series.
The focus for the forthcoming workshops in Ballymena is driver fitness and training, collision management and fleet management. You can click on the link below for more information on each workshop, and to book as many places as you require for your team.
FORS Practitioner in Ballymena – click for more information and to book your place/s:
Under 'D4 Professional Development' in the FORS Standard, fleet operators are required to identify and document the training needs of drivers and other staff involved in the fleet operation, as well as to implement a Professional Development Plan (PDP). FORS Practitioner is recommended professional development for all managers, trainers and supervisory staff. Though attendance to the workshops is not mandatory under D4, it should be considered for inclusion in the PDP for relevant staff.
Commenting about the FORS Practitioner workshops, Craig Brown, our 900th FORS Practitioner, said, "All the workshops contained essential information to help me better execute my daily responsibilities."
If you have any questions, please call us on 08448 09 09 44 or email us at enquiries@fors-online.org.uk.