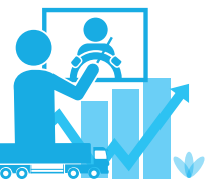 FORS Practitioner workshops took place across the UK last week with delegates attending workshops in Manchester, Corby and Bristol.
The FORS workshops have proved popular since they were established and the London workshops continue to sell out fast, therefore FORS has rolled out the workshop programme nationwide to encourage operators across the UK to engage and develop with FORS.
The workshops have been well received and have been applauded by operators in attendance who have said: 'well-planned and informative', 'excellent course leader, very knowledgeable and a really well paced course' and 'very clear delivery and gave good guidance on how to write policy from scratch'.
FORS operators have the opportunity to become a FORS practitioner with the FORS workshop programme, a credential aligned with the level 3 qualification in Safe, Green and Efficient Fleet Management. FORS Practitioner is a series of nine workshops covering:
Developing road transport policy
Managing work related road safety
Managing driver fitness and impairment
Managing driver assessment and training
Post-collision procedures and analysis
Safe and efficient fleet management
Reducing fuel use and minimising environmental impact
Minimising transport fines and charges
Monitoring and measuring road fleet performance
Booking early is advised and the workshops run on a strictly first come first served basis. For more information and to book your place visit: http://www.eventbrite.co.uk/o/fleet-operator-recognition-scheme-fors-2410121576