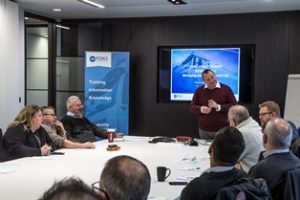 To support increased demand, FORS is introducing Practitioner workshops in three new locations across the UK: Dudley, Glasgow and Nottingham. A full Practitioner Workshop series will be held at each of the new sites:
Dudley – hosted by Ashtead Plant Hire Ltd – starts Wednesday 5 April
Glasgow – hosted by Tarmac – starts Wednesday 12 April
Nottingham – hosted by Glassolutions – starts Thursday 31 August
The dates for all FORS Practitioner workshops, including those being held in Dudley, Glasgow and Nottingham, can be found here.
The workshops, which are held at locations across the UK, are open to all FORS accredited members and cover many aspects of fleet management, including managing work related road risk, safe and efficient fleet management, reducing fuel use and minimising fines and charges.
Those who complete all nine workshops in the series will be part of a growing group of FORS Practitioners, currently totalling over 630. Gaining the FORS Practitioner qualification can also help to satisfy the FORS M3 Responsible person/s requirement and also help with progression to Silver and Gold.
The workshops are free to attend for FORS members. For more information, and to book a place, please click here.