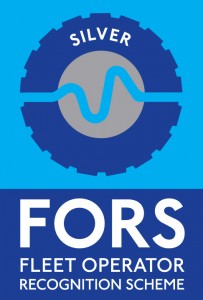 FORS is delighted to announce that leading transport and distribution company, Helsby & Longden has become the 700th company to achieve FORS Silver accreditation. It has been a busy year for the company, as it initially achieved FORS Bronze accreditation in April 2017.
This year has already seen several FORS milestones, including the 200th FORS Gold member and the 700th FORS Practitioner, and this achievement marks the continuing expansion of the scheme.
Speaking of the milestone, Simon Keane, general manager, Helsby & Longden said: "Taking into account we achieved FORS Silver only four weeks after we received FORS Bronze accreditation, everyone at Helsby and Longden is elated with the outcome. I wish to thank all those involved for their hard work and commitment in making this possible."
"As an operator, we feel FORS helps make our business safer, smarter and greener – everything we know our customers are looking for – by improving vehicle safety, driver awareness, management and operations. We plan to take on board all our learnings to date as we go for Gold."
Helsby & Longden has been in operation since 1926 and now runs a fleet of trucks and trailers. It provides warehousing, maintenance and administration and logistics services to customers across the UK and further afield.