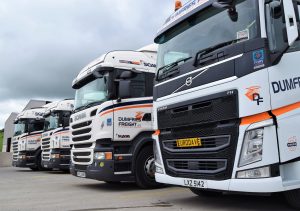 FORS is pleased to introduce the 1,500th FORS member to achieve FORS Practitioner status.
Linda Lutton, Office Manager at Newry-based Dumfries Freight Ltd, joins an elite group of 1,500 individuals who have reached FORS Practitioner status since the workshops series launch over seven years ago.
Linda said, "The job has changed over the past number of years with more technology now available to measure performance across the business.  These measurements have allowed us to now manage the business more effectively. Customers see we are a business that runs safely, efficiently and in an environmentally conscious manner. But not only are our clients benefitting from our qualifications, the business is too – we've developed our thinking to help us make clear improvements both on the road and in the office thanks to FORS."
Click here to access the list of FORS funded and discounted Practitioner workshop dates and locations from now to the end of December 2019.