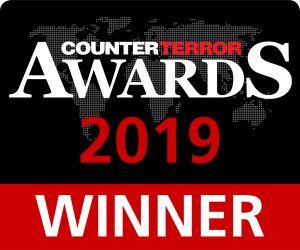 The FORS Security and Counter Terrorism and eLearning module has gained national recognition for raising awareness of security and terrorist threats, winning the Counter Terrorism Education Project Award at the 2019 Counter Terrorism Awards. The award ceremony took place on Tuesday 5 March at the ILEC Conference Centre in London and was presented by former Defence and Home Secretary, Lord John Reid.
The award acknowledges FORS and Transport for London's (TfL) commitment in the global fight against terrorism, specifically in the theft of vehicles or loads and the use of vehicles as weapons. The eLearning module was commissioned by TfL in 2017 in response to the rise of commercial vehicles used in terrorist-related incidents.
The award was accepted on behalf of FORS and TfL by Peter Binham, Principal City Planner at TfL, and Giselle Billeter, Crime Risk Coordinator at TfL.
"Collaborative working across public bodies, the police, Government and industry is essential for keeping our communities safe. Our partnership with FORS on the introduction of counter terrorism measures is a great example of this," Binham said, "and we are delighted that our joint efforts have been recognised by this award."
Since the Security and Counter Terrorism eLearning module's launch in 2018, over 47,000 individuals have completed the 20-minute online training course.
Under version 5 of the FORS Standard, members must complete the eLearning module every 24 months.
To learn more about the award, click here.