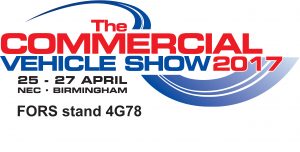 The CV Show 2017 (Tuesday 25 – Thursday 27 April) is just round the corner and the FORS team is working hard in preparation for exhibiting at what is sure to be a busy event.
FORS has chosen this year's Show as a platform to present FORS Professional, the scheme's all-encompassing programme of training and training-support services for managers and drivers.
There will be some important information for members visiting the FORS stand at the Show (stand 4G78) – a few changes have been made to the FORS Rules and Procedures (R&Ps) and to the Guidance on demonstrating the requirements of the FORS Standard (Guidance) documents (now version 4.1.i). The Guidance has been revised to include clarification about 'approved training' which now includes an annex setting out training that meets the Approved Driver Training and Approved Manager Training requirements. If you have any immediate queries, please feel free to contact the FORS Helpline.
FORS has also chosen the CV Show to launch the pilot of The Standard magazine, the first issue of a new 'industry journal' dedicated to operators, suppliers and transport professionals focusing on best practice in the transport sector. Copies will be available for visitors to the FORS stand.
FORS will be occupying a prime position at the Show, providing visitors with an ideal meeting place to learn more about FORS Professional and the wide range of other benefits on offer from the UK's leading scheme dedicated to helping transport operators become safer and more efficient.
For more information on the CV Show, please go to The CV Show website – click here.
To register to attend the event, please go to The CV Show website – click here.