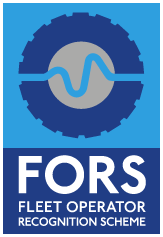 FORS members preparing for their FORS Silver application are reminded to ensure drivers have undertaken the appropriate training needed to meet FORS Silver requirement 'S5 Professional development'.
One of the most common reasons for operators failing to achieve FORS Silver is not providing evidence to demonstrate requirement S5. To meet this requirement, operators must demonstrate they have had all their drivers and all other staff involved in the fleet operation trained in accordance with the mandatory training requirements listed at Annexes 1 and 2 of the FORS Standard. This includes the new LoCITY eLearning requirement and on-cycle training where applicable. Remember, at FORS Silver, operators must also maintain FORS Bronze requirement 'D4 Professional development'.
Additionally, operators must have developed and maintained Professional Development Plans (PDPs) which includes the names of all drivers and other staff involved in the fleet operation.
The Training dashboard is available to help you evidence how you meet this requirement. Available to access via the main organisation dashboard ('Manage your account section'), members need to import the training data relevant to their organisation from the FORS Professional training register – make sure you read the user guide within the dashboard in order to submit accurate training records.
For more information on how to avoid common pitfalls while applying for FORS Silver, click here.