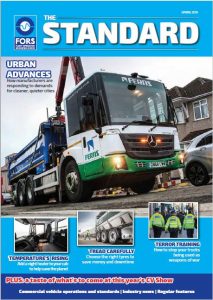 The spring 2019 edition of the FORS magazine 'The Standard' was recently sent out to all FORS primary contacts, and we would be really interested in hearing about your views and feedbacks on this edition.
The magazine is dedicated to operators, suppliers and transport professionals focusing on best practice in the transport sector. To improve the FORS members experience, we want to know what you think about 'The Standard' – what do you like? What would you change?  How can we build on the success of the quarterly publication?
To gather these thoughts, FORS has created a five minute survey for members to complete anonymously.
To take part in the survey, click here.
To download a copy of 'The Standard', click here.