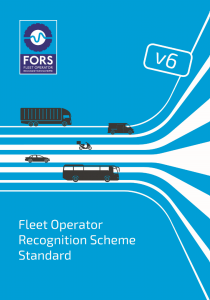 In 2020, the launch of the new FORS Standard, Version 6.0, was delayed owing to the COVID-19 pandemic. The delay was implemented to support FORS operators actively involved in serving the needs of UK PLC during this particularly challenging time.
The new Standard will now be published in October 2021, for full implementation from Thursday 1 July 2022.
These revised timescales align with the ongoing retendering of the FORS Administration contract, and as such are designed to provide adequate time for the winner to manage, communicate and implement the necessary work required for Version 6.0 to be implemented.
Following the launch of Version 6.0, FORS will re-establish the two-yearly review and Standard update, ensuring best practice and new technological developments continue to be enshrined within the Standard.