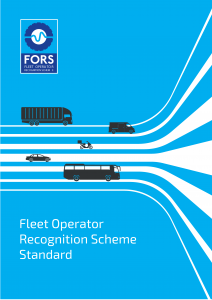 Version 5 of the FORS Standard is now available to download from the FORS website . Organisations with audit dates on and after 14 January 2019 will be audited against version 5 and must therefore prepare their Bronze, Silver or Gold audit(s) against the new and updated requirements.
The FORS Standard is revised every two years to ensure it keeps abreast of industry trends and upcoming legislative changes, and to provide guidance for members in their quest to achieve ever-increasing levels of best-practice. The revised FORS Standard now has a broader remit to encompass more vehicle types, including passenger carrying vehicles and powered two-wheelers.
Recognising air quality priorities in UK cities, environmental requirements have been revised to ensure that emissions and air quality issues are treated with the same importance as safety issues within the FORS Standard. The revised edition also sets out requirements to help operators mitigate threats of terrorism.
To help identify the key changes, Annex 5 of the FORS Standard version 5 provides a comprehensive summary of changes. Section 2 contains important information such as scope of the FORS Standard, terminology, temporary vehicles and drivers, small operators, and an explanation of the new 'call-out box' at the end of some of the requirements which is used to show how the demonstration of that requirement links to other supporting requirements.
In addition to general updates across the Standard, there are seven new requirements, identified in the table below. Key updates in version 5 include:
Requirement
Key updates
Bronze D4 Professional development
Mandatory FORS Professional Security and Counter Terrorism eLearning module completed within the past 24 months. This module is no longer part of the suite of safety eLearning modules
Bronze M1 FORS documentation
Alongside a name change, it now provides a single list of the policies and procedures that must be evidenced at audit
Bronze M6 Vehicle fleet – 

NEW REQUIREMENT

Requires operators to maintain a register of the number, type and distribution of all vehicles in scope of FORS accreditation including vehicle registration mark and trailer identification number
Bronze M8 Health and safety
Now lists all risk assessments throughout the FORS Standard. These are divided into health and safety risks and operational risks
Bronze V5 Load safety
Now split by vehicle type
Bronze V6 Vehicle safety equipment
Now includes a London specific requirement for vehicles over 12 tonnes gross vehicle weight
Bronze 04 Passenger safety – NEW REQUIREMENT
Requires operators to have a policy in place for each particular vehicle type, including accessibility arrangements where applicable
Bronze 07 Counter terrorism – 

NEW REQUIREMENT

Requires operators to have a policy and supporting procedures in place and name a Counter Terrorism Champion
Silver S1 FORS Bronze
Operators must have 45 days left on their Bronze (and Silver if applicable) accreditation(s) prior to applying for Silver
Silver S5 Professional development
Mandatory FORS Professional LoCITY Time to clean up eLearning module completed within the past 24 months
S6 Vehicle safety equipment
Previously two requirements, now covers blind spot vision aids and audible warning systems.  Fresnel lenses are no longer permitted, but, to allow for older vehicles, a tolerance in the number of vehicles fitted with camera systems may be accepted for vehicles registered before 1 January 2015.  Operators must use the FORS vehicle safety equipment report, which includes vehicle registration marks, to evidence this requirement
S7 Noise pollution
Previously a Gold requirement
S8 Internal communications – NEW REQUIREMENT
Requires operator to have an annual plan in place to communicate topical issues that are relevant to FORS to ensure flow of FORS information across the whole organisation
S9 Sub-contracted services – NEW REQUIREMENT
Requires operators to incorporate a FORS Silver flow down clause in the terms of sub-contract agreements where FORS accreditation is specified in contracts
G1 FORS Silver
Operators must have 45 days left on their Bronze and Silver (and Gold if applicable) accreditation(s) prior to applying for Gold
G3 FORS case study
Now renewed every three years to reflect meaningful improvements
G4 Recruitment and retention
Requirement for driver licence acquisition training to help address driver shortage
G5 Professional development

Mandatory FORS Professional LoCITY Driving classroom training course completed within the past five years
Gold initial audit: working towards FORS Practitioner qualification for the responsible person
Gold re-approval audit: qualification as FORS Practitioner for the responsible person

G8 Staff travel – 

NEW REQUIREMENT

Requires operators to have a staff workplace travel plan
G9 Contracted services – 

NEW REQUIREMENT

For new contracts awarded, requires operators to have a flow down clause
All mandatory training requirements are set out at Annexes 1 and 2 of the FORS Standard for drivers and managers respectively. Annex 1 is split by vehicle type for ease of reference. Both annexes include important information relevant to each type of driver which must be read alongside the training requirements. FORS-approved courses may be used as alternative to a number of FORS Professional training as indicated in Annexes 1 and 2.
In order to assist FORS members, a number of transitional provisions are in place – these are identified at Annex 6 of the FORS Standard.
To view the FORS Standard version 5, please click here.
FORS operators accredited against version 5 Silver requirements will meet both TfL (Transport for London) work-related road risk requirements and the requirements of the CLOCS (Construction Logistics and Community Safety) Standard version 3 due to launch in January 2019.
For detailed information about the version 5 updates, take advantage of the free FORS Members' Regional Briefings, located at venues throughout the UK. Book your place here. We are also running special FORS Standard version 5 Going for Bronze and Going for Silver/Gold workshops.  To view dates available, click here for Going for Bronze, and here for Going for Silver/Gold.
Look out for eNews communications about forthcoming changes to the FORS rules and procedures which will also come into effect from 14 January 2019.