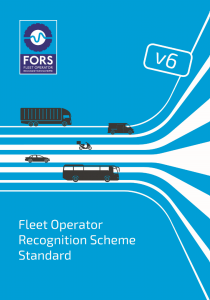 Welcome to this special edition of FORS eNews about the new FORS Standard, Version 6.0. This bulletin explains what you need to know about Version 6.0 and the pathway to its implementation.
Publication and implementation timescales
The FORS Standard Version 6.0 has been published today, Tuesday 19 October, and can be downloaded from the FORS website here.
Accompanying the publication is a series of webinars to introduce Version 6.0, which you can sign up to here.
Although Version 6.0 has been published, it will not be implemented until Friday 1 July 2022. This is to give the industry sufficient time to plan for its implementation.
This means that if you have an audit date up to Thursday 30 June 2022 then you must meet the requirements in the current FORS Standard, Version 5.1. If you have an audit date from Friday 1 July 2022 onwards, then you must meet the requirements in Version 6.0.
However, there are a small number of transitional provisions which take effect from today (Tuesday 19 October) to support the transition between Version 5.1 and Version 6.0 – you can find details of these at Annex 7 of the Version 6.0 document (page 102).
The ethos behind Version 6.0
Whilst Version 6.0 has been in development since 2019, the events of 2020 and 2021 have heavily influenced its direction. Accordingly, Version 6.0 has been designed to be an incremental adjustment from the current FORS Standard.
Version 6.0 will ensure that FORS accreditation continues to enable members to conduct their business whilst demonstrating their professionalism, commitments and credentials in improving road safety and reducing the environmental impact of their operations.
Main changes between Version 5.1 and Version 6.0
The structure of Version 6.0 remains largely identical to Version 5.1.
The document contains a Summary of Changes (Annex 6) which highlights the changes between the new Standard Version 6.0 and the current Version 5.1. You can find this on page 96 of the Version 6.0 document.
The new FORS Standard contains no changes to the mandatory driver and manager training requirements listed at Annexes 1 and 2 respectively.
There is a new annex, Annex 3, which shows the necessary documentation for Bronze level requirement 'M1 FORS documentation' in a separate list. Please note however that the necessary documentation to meet this requirement has itself not changed.
As with previous versions, the FORS Standard must be read in conjunction with the supporting documentation listed at the front of the document.
How Version 6.0 was developed
The FORS Standard is normally updated every two years. Owing to the pandemic, the launch of Version 6.0 was delayed by a further 12 months, from October 2020 to October 2021. Version 6.0 has therefore been in development since the launch of Version 5.0 in 2018. Throughout 2019, 2020, and 2021, the changes between Version 5.0 and Version 6.0 were drafted, which involved:
Reviewing queries from members to identify areas that required clarification of the language
Working with key stakeholders in the FORS Standard Review Working Group to identify and fine-tune proposed changes
Reviewing the proposed changes with consideration for the impact of the global pandemic on the industry
The final proposals for Version 6.0 were discussed and approved by the FORS Governance and Standards Advisory Group (GSAG) in July 2021. FORS GSAG comprises a diverse range of FORS operators and specifiers. Further details about GSAG can be found here.
How to find out more
You can find out more by checking the FORS website and FORS eNews bulletins for further updates and developments leading to the implementation date of Friday 1 July 2022.
You can also sign up here to one of our introduction to Version 6.0 webinars which are being held this week and in early November. At these webinars, FORS Governance and Standards will introduce Version 6.0, and attendees will have the opportunity to field questions to a panel of senior FORS staff to understand its impact on compliance.