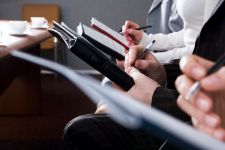 FORS Professional online and classroom-based training helps drivers understand the vital role they play in improving safety and efficiency for all road users.
FORS Professional training is designed to assist operators as they work to meet each level of FORS accreditation. Additionally, all FORS Professional driver training courses count towards mandatory Driver CPC hours, which supports the professional development of drivers and helps raise the profile of the profession.
Essential driver training at FORS Bronze
FORS Professional TruckSmart equips all commercial HGV drivers with the knowledge and skills to operate safe and roadworthy vehicles. The course focuses on the role of the driver in ensuring that vehicles and loads are safe and legal at all times. There is an eLearning module running alongside the classroom course.
FORS Professional Smart Deliveries eLearning module is available online and as group delivery training pack, to ensure it is accessible for operators and drivers with limited internet or computer access. The module is designed to give both HGV and van drivers an immersive, online experience, based on challenging driving scenarios to encourage drivers to comply with parking and loading regulations.
FORS Professional Bridge Smart eLearning module teaches drivers how to minimise the chances of collisions with bridges, which can not only do serious damage to the vehicle but to the structural integrity of bridges.
FORS Professional Smart Driving focuses on the basics of road safety and explores some of the more advanced techniques of concentration, observation and anticipation.
The FORS Professional Security and Counter Terrorism eLearning module was developed in response to the rise in the use of commercial vehicles in terrorist-related incidents and sets out a number of methods which help to reduce the probability of such an incident. The course is 20-minutes long and online, meaning it can be easily slotted into a working day. So far over 94,000 individuals have completed the training.
Reflecting the diverse nature of the fleets operated by FORS members, FORS Professional Van Smart highlights how to address the unique challenges driving a van represents, with the course aiming to improve safety, drive down work related collisions and create long-term behavioural change in the van sector.
The FORS Professional Cycle Safety eLearning module enables drivers to recognise the causes of collisions and how to minimise the risks to vulnerable road users and has so far been undertaken over 191,000 times.
Most eLearning modules are available as PowerPoint group delivery packs to assist those with limited internet access.
Essential driver training at FORS Silver
FORS Professional LoCITY eLearning module 'Time to clean up' has now been undertaken over 56,000 times. The eLearning module teaches drivers how to drive efficiently in urban spaces to avoid engine idling, helping to lower fuel consumption and reduce emissions.
FORS Professional Safe Urban Driving has both a classroom theory and practical module where drivers experience a cyclist's view of the road.  Designed to give drivers a deep understanding of urban-specific road hazards, this course has now been completed over 101,000 times. FORS Professional Van Smart is available specifically for van drivers and is delivered in the same way as Safe Urban Driving with both a theory and practical module.
Essential driver training at FORS Gold
At FORS Gold, van or HGV drivers must complete FORS Professional LoCITY Driving classroom training course.  Set up to help drivers deepen their knowledge of city-driving to help reduce fuel use and improve safety in urban areas, this course builds on the eLearning modules in place at FORS Bronze and Silver to support members as they strive for even higher operational standards.
Spaces on FORS Professional courses are available throughout the year and many are FREE for FORS accredited members. To book places for your drivers click here.