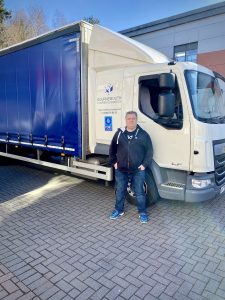 FORS is proud to welcome Edward Wateridge, Director and Transport Manager at Silver accredited Bournemouth Courier and Logistics, as the 2,500th FORS Practitioner.
The FORS Practitioner qualification is designed to help operators meet the requirements of the FORS Standard, and embed best practice within their organisation, to deliver tangible safety, environmental and commercial benefits. It is awarded on completion of the 10 FORS Practitioner workshops, which provide a complete package of fleet management learning, including managing work related road risk, safe and efficient fleet utilisation, reducing fuel use and minimising fines and charges.
Speaking of the qualification, Edward said, "FORS Practitioner training ensures that the person responsible for best practice is able to instil that philosophy throughout every aspect of the business.

"For us, the Safe and Efficient Fleet Management, Reducing Fuel Use and Minimising Environmental Impacts FORS Practitioner workshops have had the most impact. We have reduced our engine idling dramatically and improved driver behaviour, which has had a positive effect on the environment, and also on our bottom line."

"FORS is very proud of this milestone," said Sonia Hayward, FORS Manager, adding, "I would like to congratulate Edward on becoming the 2,500th FORS Practitioner. Safety and operational improvements aside, the qualification provides a great opportunity for personal development, so I really hope that operators make the most of their membership by attending this training."
Attendance at the workshops helps to demonstrate Continuing Professional Development (CPD) as outlined in requirements D4, S5 and G5 of the FORS Standard. As a further benefit, members attending FORS Practitioner workshops are able to claim 2.5 CPD hours for each workshop attended.
Click here to access the list of FORS funded and discounted Practitioner workshop dates and to book your place(s).