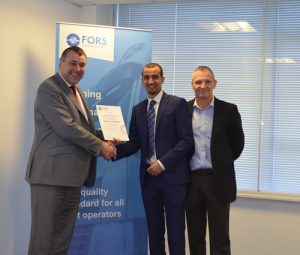 FORS would like to congratulate Mohamed Abdurahim, Logistics Support Manager at Bywaters (Leyton), on becoming the 600th individual to achieve FORS Practitioner status. FORS Gold member Bywaters is one of the UK's leading recycling and resource management companies and Mohamed is now the second person in the company to gain Practitioner status.
The FORS Practitioner course consists of nine workshops and is fully funded for all FORS accredited operators. The workshops cover all aspects of fleet management, including managing work related road safety, safe and efficient fleet management, reducing fuel use and minimising fines and charges. The workshops are available across the country and can be attended in any order.
FORS Director, John Hix, said, "Congratulations to Mohamed on becoming a FORS Practitioner; an important milestone for himself and Bywaters. It is a testament to his enthusiasm and dedication, and we welcome him to this select and highly respected group. Training is a crucial part of FORS accreditation," he said, "and we are delighted that 600 people have now completed the FORS Practitioner series of workshops."
All FORS Practitioner courses are fully funded for current FORS accredited members and there is a requirement throughout FORS Bronze, Silver and Gold for operators to demonstrate that staff undergo approved and progressive training.
For more information and to book your place on the FORS Practitioner courses click here . Places are allocated on a first come first served basis and therefore booking early is advised.