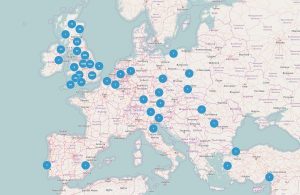 FORS recently welcomed its first Spanish Bronze member, Transnaba Orihuela. The distribution company, which runs a fleet of 55 vehicles has been in operation for over 50 years and has recently experienced strong growth in the UK.
Over the past three years, the company has introduced a number of new technologies and has seen a 25% growth in its fleet. Transnaba Orihuela prides itself on providing the best customer service possible and sees FORS as a gateway to achieving this.
FORS is rapidly expanding overseas with 40 international members, totalling 3,223 accredited vehicles and there are now FORS accredited operators in Austria, Belgium, Croatia, Czech Republic, Estonia, France, Germany, Hungary, Ireland, Italy, Latvia, Lithuania, Netherlands, Poland, Portugal, Qatar, Romania, Slovakia, Slovenia, Spain and Turkey.
To find out more about Transaba Orihulela, please click here.