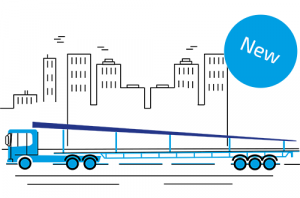 Due to popular demand, FORS will be running an additional FORS Professional Managing Abnormal Indivisible Loads on Wednesday 14 April 2021. This is in addition to the four dates launched last month for this free course, which are already fully booked.
Designed to equip FORS operators with the knowledge needed to ensure the safe transport of abnormal indivisible loads (AIL), this course is accompanied by a downloadable AIL toolkit. The information includes listing the full details of regulations in place to ensure safe transportation of AILs, the notification periods required for each vehicle and load type, vehicle dimension classifications, and best practice tips on how to successfully plan AIL movement.
Whilst transporting AILs is a specialist activity, downloading the free toolkit and attending this free course will assist FORS members in managing their operations. At Bronze, FORS requirement 'O7 Specialist operations' requires operators to conduct specialist operations safely and in accordance with the law to ensure that associated risks are managed to make sure drivers, passengers, and other road users are not endangered.
To book your place on the free six-hour FORS Professional Managing Abnormal Indivisible Loads training course, click here. This course is delivered remotely via the FORS Professional Virtual Classroom – for more information, click here. For information about the Chartered Institute of Logistics and Transport's (CILT) endorsement for Continuing Professional Development, click here.
To download the free FORS Professional Managing Abnormal Indivisible Loads toolkit, click here.