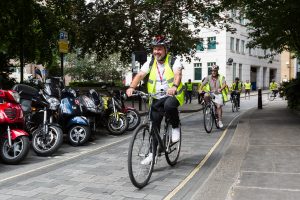 Places are still available on several face-to-face Driver CPC Safe Urban Driving (SUD) and Van Smart (VS) courses, with dates starting from June 2021. Places are also available on a number of 3.5-hour cycling practical modules for those who have already attended the remote 3.5-hour theory sessions in the past 12 months.
In line with the temporary relaxation in place for meeting the work-related road risk professional development requirement S5, drivers who undertook/are undertaking the theory element only in 2020 and 2021 will need to have completed the practical element by their Silver audit in 2022.
To book a free place(s) on Safe Urban Driving (SUD), click here.
To book a free place(s) on Van Smart (VS), click here.
To book a free place(s) on a cycle practical module only, click on either of the links above.
Many training providers licensed to deliver SUD and VS are also re-starting face-to-face courses in line with government guidelines, and many also continue to offer remote training. To get in touch with them and find out what's available, click here. Further FORS-funded dates will be released in the May training eNews for September onwards.
Please check the FORS Professional cancellation policy before booking your place(s). Cancellation fees will apply if you cancel your bookings less than 10 calendar days prior to a funded FORS Professional course, or if you fail to attend on the day. Places on funded training are limited and we kindly ask that you cancel your place as soon as possible so that your booking can be re-allocated to other members on the waiting list.