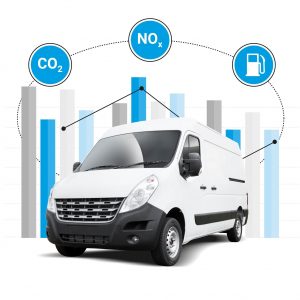 Tracker, part of the Tantalum Corporation, is inviting HGV and van fleets to take part in a free trial of a telematics system called Air.Car that provides real-time NOx emissions data. The six-month trial will contribute towards 'ground-breaking' research that aims to both reduce air pollution and slash operators' fuel costs.
For those operators taking part, a telematics unit will be fitted to fleet vehicles by Tracker, with a short training course provided to maximise the benefits of the data they receive. Fleet managers will be able to view results through a fleet management website that will display real-time CO2 and NOx emissions, location, data reporting, driver behaviour and crash reporting.
Tracker said its existing real-time CO2 emissions product has already helped customers save an average of 15% in fuel costs by promoting better driving; it is anticipating the new technology will also reduce NOx emissions by as much as 50% through the same driving guidance.
The trial may be of particular interest to FORS members who are looking to achieve FORS Silver accreditation in the near future. The S6 Performance data requirement in the Standard states that operators need to show they are monitoring performance indicators such as fuel usage and transport related CO2 and NOx emissions.
Businesses interested in taking part can register online for the trial, which will commence in December 2017.