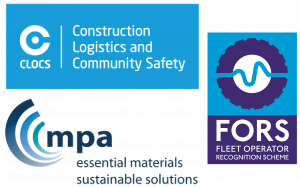 FORS, CLOCS and the Mineral Products Association (MPA) have developed an interactive analysis tool to interrogate the annual GB road safety statistics published by the Department for Transport (DfT). The tool, which is available free of charge to FORS members, can be accessed via the FORS website.
This tool will help users gain a greater understanding of collisions between vulnerable road users (VRUs) and goods vehicles, specifically those used widely in the construction sector.
The interactive analysis tool allows members to interrogate the annual GB road safety statistics published by the DfT between 2014 and 2018 – the data is based on reports made on every road collision attended by the police. The road safety stats are presented graphically through a series of interactive charts and tables showing trends and patterns, and users can filter the data to suit their analysis. Some of the key statistics include collision by causality type, location, vehicle type time of day and the level of casualties relative to construction activity.
Collisions involving VRUs relative to construction output are on the decline but aren't decreasing fast enough. The most common contributory factor for these incidents is driver observation errors such as misjudging speed and not looking properly. FORS members can interrogate the data to understand the factors behind these incidents. This in turn can help with the implementation of new preventative measures.
To gain further support on managing collisions, members can access FORS Collision Manager. This is a work-related road safety reporting system that enables you to log, record and report incidents and collisions and near misses. FORS members can use FORS Collision Manager to log and monitor their own road safety data as well as look at anonymised data, lessons learnt and remedial interventions from other organisations.
To access the FORS Collision Manager, click here.
To access the free VRU and HGV collision analysis tool, click here.