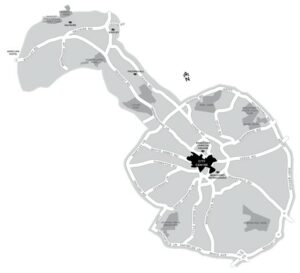 HGV operators in Bradford are being invited to submit funding bids to help retrofit their vehicles ahead of Bradford's forthcoming Clean Air Zone (CAZ).
The zone is set to go live in early 2022, with operators now able to submit funding bids for up to £16,000 per vehicle to help prepare for the zone. Applicants can apply via the YORtender portal which also offers application guidance and details of eligibility.
HGVs and buses in breach of the standards of the CAZ will be charged £50 a day to enter Bradford's city centre. Taxis will be charged £12.50 per day to enter the zone whereas light goods vehicles, such as minibuses, will be charged a £9 per day. Charges will not be applied to private vehicles.
Bradford is one of several local authorities that has been directed by the UK Government to improve air quality. The objective of the CAZ is to reduce nitrogen dioxide and improve the overall air quality in Bradford in the shortest amount of time, by discouraging the use of older, more polluting vehicles. A £30 million fund will be allocated to provide grants for owners of vehicles in violation of the forthcoming standards to either convert to electric or switch to a less polluting engine.
The UK Government has released a CAZ checker to help operators find out if their vehicle will be charged to drive in a CAZ. To access the CAZ checker, click here.
For more information on Bradford's Clean Air Zone, click here.