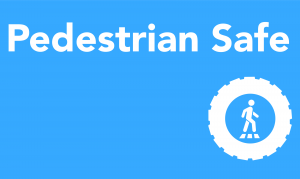 Last month saw the launch of FORS Professional Pedestrian Safe. The new, mobile-friendly eLearning module, which has already been completed by over 5,500 individuals, seeks to educate drivers on the specific dangers pedestrians face and how to protect them.
FORS has now introduced a PowerPoint group delivery training pack for this module, offering operators and drivers added flexibility. As with all group delivery packs, Pedestrian Safe group delivery can be accessed via your company dashboard.
Pedestrian Safe joins the existing suite of safety eLearning modules (Cycle Safety, Van Smart, Smart Driving, and Bridge Smart) meaning another option is available to drivers to meet Bronze requirement 'D4 Professional development.' At Bronze, drivers must have undertaken one safety eLearning module in the past 12 months and the Security and Counter Terrorism eLearning module in the past 24 months. If you are renewing your Silver, make sure the Bronze eLearning modules are still in date too.
Taking around 20 minutes to complete, the training module provides the user with a better understanding of the risks faced by pedestrians and the techniques that can be used to mitigate these risks, including:
Checking driving conditions
Avoiding incorrect assumptions
How to keep focused when driving
Check out the new eLearning module here.