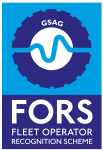 On 24 October the Governance and Standards Advisory Group (GSAG) met in London to discuss the development of FORS, as well as providing the group with an opportunity to hear from mental health charity 'Mates in Mind' which delivered a thought-provoking presentation on workplace wellbeing. FORS will be helping to spread these important messages in the near future.
The main topic of conversation centered on the development of driver training for FORS Silver accredited operators, as we look to evolve the requirements ahead of version 6 of the FORS Standard (due in 2021). While it's clear that immersive training will play a major role in updated requirements, the discussions are ongoing, with a decision set to be made in the coming months.
The group also discussed the option for introducing mixed accreditation, where a FORS Bronze operator would be able to specify Silver or Gold accreditation from the same site. Views from GSAG members on mixed accreditation were many and varied, so a paper will be produced and shared with the group to provide examples of how it would work in practice.
The issue of VRU sensors was also raised by group members who highlighted the fact that many drivers are now 'switching off' their audible warning alarms. As technology moves on, it is crucial that FORS investigates the issue at its earliest opportunity. As a result, a working group will be created to investigate the options for VRU safety through technology.
After a comprehensive scheme update was delivered, a revised set of auditor competencies was presented. The objective was to make it easier for contract specifiers to become a certification body or use the IAFA (Internal Audit Fleet Accreditation) route to accreditation. The new competencies may include scope for procurement professionals, local authority auditors, van fleet auditors and freight forwarders.
If you would like to know more about GSAG, contact the FORS Governance and Standards Manager, James Tillyer, at james.tillyer@ciltuk.org.uk