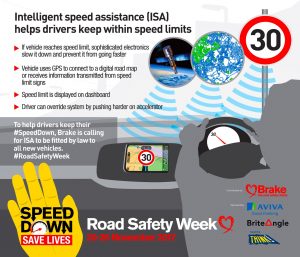 Breaking the speed limit, or simply travelling too fast for the prevailing road conditions, is recorded as a contributory factor in almost one-in-four fatal crashes in the UK. It is the reason why this year's Road Safety Week is drawing attention to the technology being used to improve road safety – such as Intelligent Speed Assistance (ISA), which could prevent an estimated one-in-three fatal crashes.
Intelligent Speed Assistance (ISA) is any automated system that identifies a vehicle exceeding the speed limit and, depending on the model, will:
take control of the vehicle to reduce speed to below the legal limit (mandatory ISA)
enable the driver to control whether the system can restrict their vehicle speed and/or the speed it is restricted to (voluntary ISA)
alert the driver that they have exceeded the speed limit and should act to correct this (advisory ISA)
Many FORS members will be familiar with advisory ISA, as these are a feature of many telematics systems.
This week is Road Safety Week and the road safety charity, Brake, is actively promoting the message 'Speed Down Save Lives'. Road Safety Week is the UK's biggest road safety event, coordinated annually by Brake, with its aim to inspire thousands of schools, organisations and communities to take action on road safety and promote life-saving messages. It's not too late to get involved in this year's campaign – for more information, please visit the Brake website.