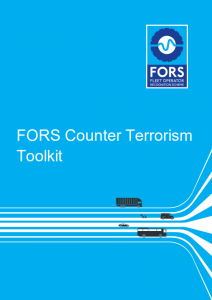 FORS Bronze requirement 'O7 Counter terrorism' was introduced to recognise the current terrorist threat and to raise awareness, security and vigilance across your organisation. To help members meet this requirement, operators are encouraged to use the guidance provided in the free FORS Counter Terrorism Toolkit.
The toolkit will help you write an effective counter terrorism policy. It provides you with all the elements you need to put together a policy and supporting procedures and what you need to do with these. It also includes a checklist of the key actions you need to undertake to meet Bronze requirement O7. Meeting the requirement will help minimise the risks posed by potential security and terrorist threats and ensure staff are prepared to deal with extremist and terrorist activity.
In addition to the toolkit, there are a number of free FORS Professional documents and training available to support members, such as the award-winning FORS Professional Security and Counter Terrorism eLearning module which was commissioned by Transport for London (TfL) in 2017 in response to the rise of commercial vehicles used in terrorist-related incidents. Since its launch in 2018, over 154,272 individuals have completed the 20-minute online training course. As laid out in version 5.1 of the FORS Standard, members must complete the eLearning module every 24 months.
Additional resources are available to help you meet Bronze requirement O7, such as the FORS Professional Security and Counter Terrorism eLearning module, FORS Professional Toolbox Talks and online FORS Practitioner workshops. For general help about preparing for your Bronze audit, check the FORS Bronze Audit Toolkit.
To access the FORS Counter Terrorism toolkit, click here.