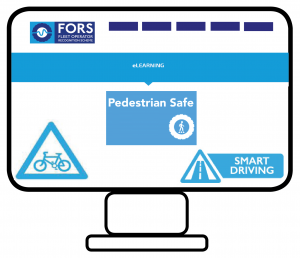 As we all continue to manage the ongoing impacts of coronavirus and with many more pedestrians and cyclists on the roads, drivers are having to be even more vigilant than ever, especially with pedestrians potentially stepping into the road in an effort to maintain social distancing. With Bronze requirement 'D4 Professional development' requiring drivers to undertake training every 12 months on road risk and the safety of vulnerable road users, FORS members are well prepared for this increased challenge.
As drivers rotate the safety eLearning modules undertaken each year, FORS members may wish to encourage their drivers to refresh their knowledge even if they are not required to undertake one of the following FORS Professional safety eLearning modules this year. These modules will help drivers to share the roads safely as the number of vulnerable road users increases:
Pedestrian Safe – educates drivers on the specific dangers pedestrians face and what they can do to protect them
Cycle Safety – enables drivers to recognise the causes of collisions and how to minimise the risks to vulnerable road users
Smart Driving – focuses on the basics of road safety and explores some of the more advanced techniques of concentration, observation and anticipation
To access and complete one of the safety eLearning modules, click here. Other safety eLearning modules are Van Smart and Bridge Smart.