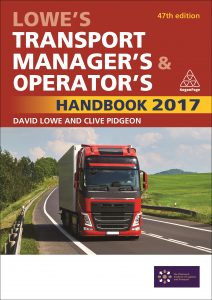 This new not to be missed handbook is an essential reference source for any transport manager, fleet operator or owner-driver haulier. Lowe's Transport Manager's and Operator's Handbook, now in its 47th edition, is the most comprehensive guide to the operational rules and guidelines governing the UK's road transport operators available.
The latest edition has been thoroughly updated and revised to reflect the latest developments in the industry.
Previously £45, this book is now available to purchase today at £40 (+ postage and packaging).
To order your copy, contact bookshop@ciltuk.org.uk  or call 01536 740167. Please provide your FORS ID when ordering your copy.