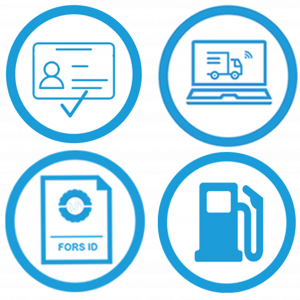 FORS recently introduced its fourth Affinity Partner product – FORS Fuel Expert. FORS Affinity Partners are a select group of appointed companies offering discounted and FORS-branded products and services, designed to help FORS operators comply with legal or contractual requirements and improve their operation.
Click on each title to find out more about each one so you don't miss out on these opportunities.
FORS Fuel Expert is offered in partnership with Fuel Card Services (FCS), one of the largest independent fuel card agents in the UK, offering members exclusive access to a range of discounted fuel cards. Accessible to all FORS members, irrespective of fleet size or vehicle type, the service offers FORS members savings of up to four pence per litre (ppl) off the national average pump price and up to 10ppl off motorway pump prices, along with the chance to reduce overall fuel consumption.
Kelsey Major, manager of FORS Bronze member Universal Services (Sports Equipment) Limited said, "One of the great things about being a FORS member is having access to the Associates and their offers. In particular FORS Fuel Expert has aided me to reduce our overall fuel costs and administration time, and offers more choices on the re-fuelling locations for our drivers, which was very important to us."
FORS Driver Licence Checking Service
FORS Driver Licence Checking Service assists operators with meeting Bronze requirement 'D1 Licensing' of the FORS Standard. The service, in collaboration with FORS Affinity Partner Licence Bureau, is designed to minimise the hassle and risks associated with checking that drivers are safe and legally compliant to operate vehicles, ensuring information is always up to date.
Martin Halpin, deputy transport manager at Owen Scaffold, said, "Having access to the FORS online licence checking system with automated alerts received when there is a problem with a driver and their licence makes my life much easier."
FORS Fleet Management Service (FORS FMS)
In association with FORS Affinity Partner FleetCheck, FORS FMS provides an easy-to-use software package which helps FORS members gain and maintain FORS accreditation.
Mervyn Rolf from Swift Scaffolding explains how his company has saved "vast amount of administration time by using FORS FMS." He says, "Before I decided to put FORS FMS in place, everything was being managed on paper or on whiteboards making service dates really difficult to keep on top of without spending hours sorting through paperwork to pinpoint key dates. Being FORS Gold accredited, we need to be on the ball with every aspect of fleet management from the eyesight and health checks of our drivers, to the safety check completion on our vehicles and trailers.  Therefore, it was so important for us to find a robust system like FORS FMS."
The dedicated FORS Vehicle Graphics Service provides members with low-cost, hassle-free access to its complete range of high quality FORS ID graphics and warning signage. FORS teamed up with vehicle graphics specialist, RGVA, as its FORS Affinity partner to bring members a high quality vehicle graphics service.
Jeff Steward from FORS member company The Benbow Group Ltd, who rated the service 5/5 for quality and value for money, said, "the service does exactly what it says on the tin – good value for money, timely delivery, no frills."