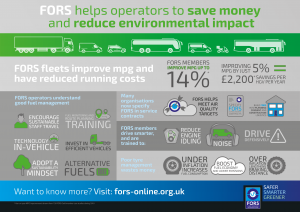 With tough governmental targets on air quality, and the spread of Clean Air Zones in major UK cities, environmental efficiency is now even more important for fleets operating in urban areas. That's why it makes sense to make the most of FORS training, toolkits, products and services and guides.
You can use the FORS Fleet Tools data management portal to collate and record all fleet data, including fuel consumption, emissions and fleet incidents to better understand where efficiencies can be made. This essential data allows you to track your progress towards quantifiable efficiency gains, and to actively make changes to your operation to boost productivity.
The FORS Fleet Management System (FORS FMS) can be used to track fuel purchases, tyre tread-depth and mileage figures. Data can then be used to ensure fleets have an accurate service, maintenance and repair schedule in place to quickly fix faults, to keep costs down and to make sure vehicles are running as efficiently as possible.
FORS Safe Urban Driving, Van Smart, TruckSmart and LoCITY Driving courses are designed to help your drivers understand the most efficient way to drive in cities and urban areas. Drivers learn how to reduce engine idling in order to cut fuel use, emissions and inefficiency.
The provides advice on helping to implement tyre policies, as well as management systems and training which will reduce tyre-related costs, reduce the impact on the environment and enhance safety. Correct tyre inflation, and a stringent maintenance programme generally, will help deliver a safer, more productive, and a more environmentally sound fleet; boosting efficiency and driving down fuel consumption.
FORS Fuel Reporting, part of FORS Fuel Expert fuel card, provides you with a robust reporting mechanism for analysing fuel consumption, allowing inefficiencies to be identified and thus eliminated, while at the same time reducing the fleet's environmental impact.
The FORS Professional Managing Noise in Logistics workshop was created as part of the FORS Practitioner series of management development courses. The workshop seeks to help you fulfil your noise assessment requirements as required at FORS Silver level, and gives you practical advice on how to reduce the impact of noise from freight deliveries in urban environments.