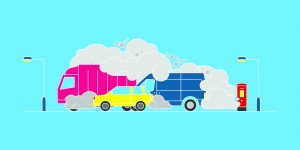 The Mayor of London's Cleaner Vehicle Checker is a combination of tools to help individuals and businesses make more informed choices when buying new cars and vans. New vehicles will be given ratings on a scale of A+ (best) to H (worst) based on the "real-world" NOx emissions they produce on the road.
Businesses are encouraged to adopt the cleaner vehicle rating system as part of their procurement process; this will help to ensure any diesel or petrol vehicles adopted into fleets are as clean as possible.
The fleet checker service is also beneficial to businesses interested in learning more about their emissions performance. By visiting the Cleaner Fleet Checker page, fleet managers will be able to download, complete and submit a template with their current fleet details, to receive a free analysis report from Emissions Analytics (partnering with the GLA). The report will show the average emissions performance of a fleet if all the existing cars and vans were replaced with the latest Euro 6 models and will include different options to improve on this. It will also show the individual ratings for each car and van in the fleet, so that fleet managers can identify their most polluting vehicles. This means they will be able to see how their average NOx rating could be improved if, for example, all their existing H-rated vehicles were replaced with cleaner models.
Click here to read the press release or go to the Cleaner Fleet Checker page to find out how your fleet is performing and to download the Fleet Check template.