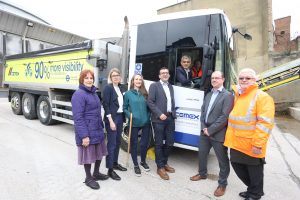 The Direct Vision Standard (DVS) was launched last week by Mayor Sadiq Khan, Transport for London (TfL) and London Councils to remove dangerous Heavy Goods Vehicles (HGVs) from the British capital.
The DVS seeks to eliminate dangerous blind spots from certain categories of commercial vehicles which have been proven to be the cause of pedestrian and cyclist deaths and serious injuries. Failure to meet the new safety standards will result in a Penalty Charge Notice (PCN) for driving in London.
The DVS is designed to tackle road danger at its source by minimising HGV blind spots through an assessment of how much a driver can see 'directly' through their cab windows. A unique star-rating system for vehicles over 12 tonnes – from zero (lowest) to five (highest) – has been introduced so that operators can obtain a requisite Safety Permit. Affected vehicles must meet a minimum 'one-star' rating to allow operation in London by the time enforcement begins or take remedial measures by fitting vehicles with various safety equipment according to DVS 'Safe System' improvements.
Operators can now apply for an HGV Safety Permit ahead of enforcement, which will come into effect on 26 October 2020. Vehicles without permits will be assumed to have a zero-star rating after enforcement begins.
To ensure a simple transition for FORS members, Bronze requirement V6 and Silver requirement S6 for vehicle safety equipment were revised at version 5 of the FORS Standard to align with the DVS Safe System improvements for right-hand drive vehicles, meaning that Silver members with zero-star rated vehicles meet the safety requirements to be granted a permit.
Permits will be supplied electronically and will be enforced by Automatic Number Plate Recognition cameras. Non-compliant vehicles will be issued with a PCN of £550 per day; the charge is reduced by 50 per cent if paid within 14 days.
The DVS will operate 24-hours a day, seven days a week and will be enforced within the Greater London boundary.
Operators can apply for Safety Permits through the TfL portal here.