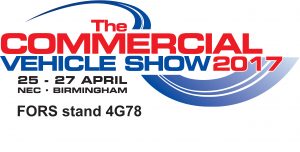 Following a fantastic response at the CV Show last year, FORS is looking forward again to an ultra-busy three days at the NEC, 25 – 27 April 2017. FORS has chosen the CV Show to showcase FORS Professional, the scheme's all-encompassing programme of training and training-support services for managers and drivers.
FORS Professional training provides a comprehensive suite of training tools for operators, including specifics for drivers and transport managers, and for transport companies regardless of size and make-up. FORS Professional offers funded and free training courses, workshop and eLearning, as well as toolkits, guides and other materials to ensure fleets are afforded the industry's best source of best practice education and guidance.
This year's CV Show, which also sees the return of major truck manufacturers, remains the road transport industry's biggest and best exhibition, and will likely attract over 20,000 visitors from the UK and overseas. FORS will again occupy a prime position (stand 4G78) to provide visitors with the ideal meeting place to learn more about FORS Professional and the wide range of other benefits on offer from the UK's go-to source of best practice for transport operators.
For more information on the CV Show, please click here.
To register to attend the event, please click here.