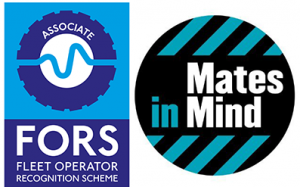 FORS is teaming up with mental health charity Mates in Mind to encourage members to prioritise employee mental health as a staff safety issue.
FORS members have access to the employer mental health guidance resources offered by Mates in Mind and regular news updates regarding the latest developments in mental health in the workplace.
Mates in Mind was set up by the Health in Construction Leadership Group (HCLG) and is supported by the British Safety Council in its aim to provide industry employers with guidance to support the mental health of its workforce. Initially established to improve mental health within the UK construction industry, Mates in Mind's services have now expanded across various supply-chain and related industries. The charity hopes to extend their expertise to organisations across road transport as a FORS Associate.
Martin Lockham, Growth Development Manager at Mates in Mind said, "Working alongside programmes such as FORS, Mates in Mind is able to deliver the support education, resources and materials organisations need to improve the mental health of their workforces."
For further information about Mates in Mind, click here.