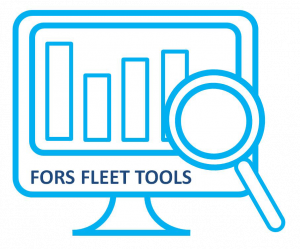 Did you know FORS offers an exclusive online bank of exclusive and FREE toolkits for fleet data? FORS Fleet Tools is designed to help members collate and manage fleet data.
FORS Fleet Tools provides FORS members with a hassle-free, consistent platform to demonstrate how their fleets are meeting specific environmental, safety and efficiency requirements set out in the FORS Standard.
Created in collaboration with FORS Affinity Partner, FleetCheck, FORS Fleet Tools is FREE to access for FORS members and contains a range of toolkits to help them collate specific fleet management data to fulfill the requirements as they progress through FORS Bronze, Silver and Gold accreditation.
FORS Fleet Tools includes three separate toolkits:
Fuel Tracker – record and track your fuel use with ease
PCN Tracker – monitor, manage and help reduce PCNs
Incident Tracker – track and monitor incidents involving drivers or vehicles
Click here for more information on FORS Fleet Tools.