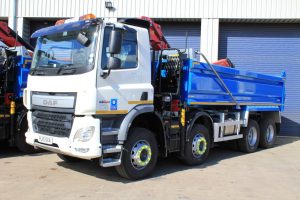 As part of a trial, FORS has accredited its first vehicle hire fleet, ND Brown Ltd. This new type of accreditation, FORS Vehicle Hire Company accreditation, is specifically designed to enable hire and leasing companies to demonstrate that their vehicles meet the FORS Standard.
FORS Vehicle Hire Company accreditation is a new type of FORS Associate status, whereby the company is assessed against the FORS requirements relevant to the supply of vehicles.
Under the trial accreditation, it is the hire vehicle itself which is covered by FORS accreditation when it is being used by a FORS accredited operator. The accreditation has been designed to ensure that FORS members can continue to meet the FORS requirements when they use temporary vehicles hired to meet ad-hoc additional demand. FORS members choosing to hire vehicles from companies with FORS Vehicle Hire Company accreditation will know that the vehicles meet FORS Bronze or Silver requirements and are in line with their own best practice standards.
Lee Kind, National Accounts Manager at ND Brown LTD, commented, "Our involvement in the FORS Vehicle Hire Company accreditation trial highlights our commitment to raising the standards of vehicles available to the hire market to the same level as operators have done, and is a testament to our foresight and commitment to providing the highest specification vehicles to the latest standards and demands."
For more information and to get in touch with a FORS Vehicle Hire Company, click here. FORS will also be launching a new Driver Hire Company accreditation – watch out for more information in the coming months.