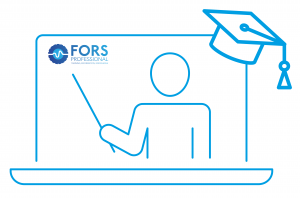 New FORS Practitioner webinar dates have been released for October, November and December. Each FORS Practitioner webinar is offered to FORS members at the discounted rate of £40 +VAT per person per webinar.
Attending the FORS Practitioner webinars helps demonstrate meeting specific elements of the FORS Bronze, Silver and Gold professional development requirements – D4, S5 and G5. The webinars are open to all FORS members and can be attended individually and in any order. Each FORS Practitioner webinar lasts around two hours and attendance counts towards the FORS Practitioner qualification, which requires members to complete all 10 FORS Practitioner webinars.
To book your place onto a FORS Practitioner webinar, click here. All courses are delivered remotely via the FORS Professional Virtual Classroom – for more information, click here. All FORS Practitioner webinars are endorsed for Continuing Professional Development by the Chartered Institute of Logistics and Transport (CILT). For more information, click here.
In accordance with the FORS Professional cancellation policy, no refund will be issued for non-attendance or failure to cancel a place 10 or more calendar days prior to a discounted course.