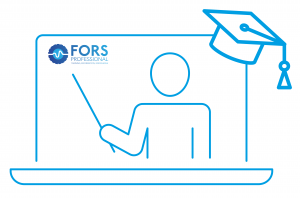 Two additional discounted FORS Practitioner webinar series have been scheduled in September, with each FORS Practitioner webinar offered to FORS members at the discounted rate of £40 +VAT per webinar.
Webinars were introduced at the beginning of April in order to allow members to undertake manager training during the coronavirus pandemic. They have proved very popular with over 1,500 delegates trained since then.
Attending the FORS Practitioner webinars helps demonstrate meeting specific elements of the FORS Bronze, Silver and Gold professional development requirements – D4, S5 and G5. The webinars are open to all FORS members and can be attended individually and in any order. Each FORS Practitioner webinar lasts around two hours and attendance counts towards the FORS Practitioner qualification, which requires members to complete all 10 FORS Practitioner webinars.
For information about the webinar times and dates, and to access the booking links, click here.
For general information about FORS webinars, check our webinar frequently asked questions page here.
Non-attendance, or failure to cancel your place on a FORS Practitioner webinar 10 or more calendar days prior to the course will result in you being charged in accordance with the FORS Professional cancellation policy.