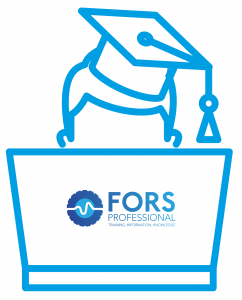 In September FORS will launch a new secure FORS Professional Booking Platform and Virtual Classroom. This is to support the decision announced in May that FORS will continue to deliver all FORS Professional manager courses via webinar.
The FORS Professional Virtual Classroom will give members an enhanced virtual training experience, with members able to see the trainer during the live session making the experience more 'classroom-like.' Members will also be able to enter their driving licence number into the secure platform to improve accuracy of training records.
The new platform includes an embedded assessment at the end of each webinar to ensure that the learning objectives have been met prior to the training records being uploaded to the FORS Professional training register. Each assessment is made-up of 10 multiple-choice questions relating to topics covered during the training session, with each question selected at random by the platform. Delegates will have three attempts and will need to answer seven out of 10 questions correctly in order to pass the test. Delegates who pass the assessment will be able to print their own certificate.
Members will need to make sure that they have the right equipment in order to attend the training, and that they have created an account for the new Virtual Classroom prior to the day of the course.
From 1 September, all bookings will be made using the FORS Professional Booking Platform. The new platform will make it easier for FORS members to book and pay to their training with members being able to select a number of courses and place these into a 'shopping cart' rather than have to make multiple bookings. Members will also be able to cancel or swap training courses, right up to 11 calendar days before a course. For changes/cancellations within 10 days of a course, members will need to contact the FORS Helpline in line with the FORS Professional cancellation policy. Where a course is funded by FORS, members will be provided with a training voucher code for the specific course to cancel out the cost of the training on the platform.