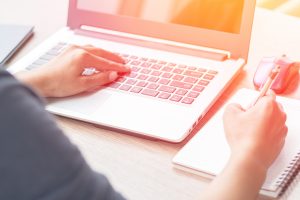 As part of the FORS Professional suite of training, we've recently added a new module to our online training and improved existing FORS eLearning modules. FORS Professional training is designed to support the continued professional development of managers and drivers. The FORS eLearning modules are immersive, online experiences that provide challenging scenarios, in a controlled way.
New Smart Driving – this new module, aimed at drivers of all vehicle types, replaces the existing Work-Related Road Safety module and takes place on busy streets during the working day. This course features a 3D animation of a collision, which is then seen in reverse enabling the factors that may have contributed to the collision to be explored in detail. The module focuses on the basics of road safety and explores some of the more advanced techniques of concentration, observation and anticipation.
Improved Cycle Safety – this module has just got better! This course helps drivers recognise the causes of collisions and minimises the risk with vulnerable road users. It's recently been updated to reflect current good practice giving drivers essential information on:
Cyclist awareness
Positive attitude
Hazard perception
Both the brand new Smart Driving module and revised Cycle Safety module can be accessed now via the eLearning page of FORS online. Please note that the Work-Related Road Safety module and the current Cycle Safety module will remain live until 18 July 2017 to enable drivers to complete any ongoing training and print their certificate. After this date, only the new modules will be live and accessible.
Limited online access?
To support those operators and drivers with limited computer or no internet access, we've also developed a PowerPoint group delivery training pack for Van Smart. The aim of this pack is to give added flexibility to members, enabling operators to embrace the continued professional development of their drivers.
Van Smart encourages drivers to adopt good driving practice and the new training pack provides a learning experience that draws on the key messages from Van Smart.
If you would like to access this brand new training pack, free of charge to members, please  email the FORS helpline: enquiries@fors-online.org.uk so that we can send the material to you – this is in the form of a USB with full instructions on how to deliver the training.
Click here for full details of the FORS Professional eLearning modules.