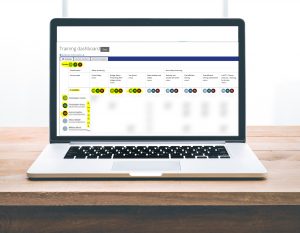 FORS has launched a new training dashboard to enable members to monitor and maintain FORS Professional training records for their drivers and managers, which can be used to evidence Silver and Gold professional development requirements.
Available to access via the main organisation dashboard ('Manage your account section'), you will first need to import the training data relevant to your organisation from the FORS Professional training register – please refer to the full user guide within the dashboard to complete this process.
Once you have imported the relevant training data to your training dashboard, it will display individual training courses with expiry dates and can be used to evidence the FORS professional development requirements S5 and G5 at Silver and Gold – this is done from your Silver/Gold application by selecting the appropriate tick box. However, if you use the training dashboard as your only evidence, you must make sure that all your drivers/managers are listed on the dashboard before submitting. If any of your drivers/managers are missing from the training dashboard, you must attach further evidence of their training records, such as relevant training certificates.
Smart features of the training dashboard include:
Quick identification of the job role, ie driver or manager or both
Easy identification of training expiry dates by specific driver/manager
Analysis of the percentage of driver/manager completed training
The training dashboard can be used to its optimum potential only if there are no inaccuracies in the professional training register. Inaccurate records can be amended as follows:
eLearning – wrong driving licence number, date of birth or company name – this information can be amended by the individual by accessing the eLearning dashboard and clicking on the 'Update details' section
Classroom training and group eLearning – wrong name, driving licence number, date of birth or company name – to comply with data protection rules, this information cannot be amended online through the dashboard. However, it can be amended by calling the FORS Helpline, although this can only be actioned if the caller is the individual whose records need amending