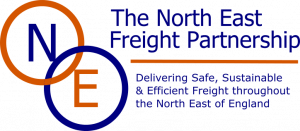 The North East Freight Partnership represents a collaboration between freight operators, local authorities, academics, freight user groups, industry associations and anyone with an interest in freight. Want to get involved?
The aim of the Partnership is to promote safe, efficient and sustainable freight movement in the region. Each year, the Partnership offers a programme of activities to help achieve its goals. This includes quarterly meetings, online resources, training, promotion of best practice, trials of the latest technology and promotion of fleet accreditation schemes and cycle safety initiatives.
As an operator it provides you with the opportunity to access training fully funded by the Partnership, influence decision making and hear about the latest issues and opportunities affecting freight in the region.
Partnership meetings are free to attend and open to anyone who shares the goals of the Partnership.
A special event for the freight sector will be held in the Whickham Room at the Gatheshead Civic Centre between 11 am and 1 pm on 24 April to discuss air quality proposals for Newcastle, Gateshead and North Tyneside.
If you're interested in attending, or if you would like to be added to the mailing list for updates on forthcoming meetings and relevant news, contact john.bourn@northeastca.gov.uk.