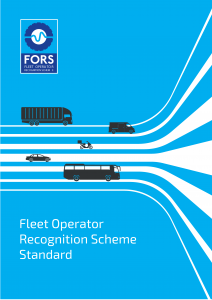 In order to meet Bronze requirement 'O4 Passenger safety', FORS operators must possess a passenger safety policy for each vehicle type, supported by a risk assessment or method statement. This requirement applies to operators of passenger carrying vehicles (PCVs), of course, but also to operators of any vehicle that is fitted with at least one passenger seat such as HGVs, vans and cars.
For PCVs – The full list of the requirements at 'O4 Demonstration' must be met. This includes pre-employment and three-yearly vetting of drivers, escorts and conductors through the Disclosure and Barring Service; and additional instructions where vehicles are accessible to disabled people
For HGVs, vans and cars – As a minimum, your documentation must include specific information such as permitted number of passengers, wearing seatbelts and safety instructions for passengers
To help in the development of safety instructions for passengers, FORS has developed 'Ten steps to being a safe passenger' presented as a series of simple dos and don'ts, and which can be incorporated into your policy and risk assessment. For example, your policy could state that all passengers will be briefed on being a safe passenger using the 'Ten steps to being a safe passenger', or they could be incorporated into a toolbox talk.
Ten steps to being a safe passenger
 Do
Wear your seat belt. It's the law, it's there for your safety and you are not insured without it
Support the driver. Help ensure other passengers act responsibly and offer to help navigate if required
Keep communication to a reasonable level. The more people in the vehicle, the more distractions there may be from conversations, music, etc.
Pay attention to the road and let the driver know if there is an emerging hazard; you may be able to see a hazard while the driver is otherwise concentrating on the road ahead
Say something if you are concerned about a driver's behaviour or if he or she is driving too fast. But don't be a backseat driver
Don't
Get into a vehicle if you suspect the driver is under the influence of alcohol or drugs
Distract the driver. Drivers need to concentrate and distractions make this difficult
Encourage the driver to speed, break the law or conduct any other unsafe act. Even if you are late for a meeting
Block the driver's field of view through the windows and mirrors, particularly at junctions
Turn on interior lights at night – this can affect the driver's night vision and their ability to see properly
If you are concerned about a driver's behaviour, or their standard of driving, and you don't feel that you can raise the issue directly, report the incident as soon as possible.
The purpose of this Bronze requirement is to support passenger safety, regardless of the type of vehicle.