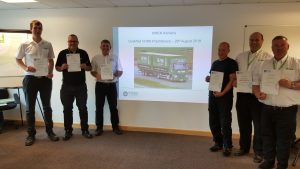 Don't miss out. Book your place(s) on FORS Practitioner workshops in Crumlin. The series of workshops is running from now until the end of April and is offered free of charge to FORS members.
As a FORS member, you are encouraged to attend this training, designed to assist and develop busy managers. It will also help you to meet mandatory FORS Silver and Gold professional development requirements, as detailed here.
Completion of all 10 workshops means you will join an elite group of 1,300-plus operators that have reached FORS Practitioner status.
Peter Morrow, FORS Manager – Northern Ireland, said, "We welcomed the first qualified FORS Practitioners in Northern Ireland in May 2018, just six months after we launched the programme. The qualification continues to grow in popularity as transport professionals throughout the region begin to see the benefits FORS Practitioner status can bring to their businesses."
Click on the link below for more information on each workshop, and to book your place(s). You can book more than one place if you would like to bring along the person(s) responsible in your organisation for training, or health and safety, etc:
As an added benefit, members are able to claim 2.5 CPD (Continuing Professional Development) hours for every FORS Practitioner attended – so a total of 25 CPD hours for the whole Practitioner series made up of 10 workshops.