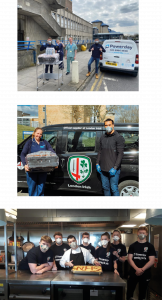 FORS Gold member Powerday, a waste management and recycling company, has teamed up with London Irish Rugby Club to support the vital work of the NHS during the coronavirus pandemic.
To support the NHS staff working on the frontline, the #PoweringTheNHS campaign – an initiative funded by the waste management company – has already seen Powerday and London Irish make and deliver 25,000 meals for NHS staff who are working under immense pressure in London and local hospitals.
The meals are created at London Irish's Hazelwood training ground in Sunbury, West London, where chefs from the Hazelwood kitchen team have volunteered to cook nourishing and healthy meals.
Powerday, a family-run company, is also donating vital personal protective equipment (PPE) to the NHS and is calling on the waste and construction industry to join in by also donating PPE. The range of PPE includes masks, gloves and goggles, to help keep doctors and nurses safe whilst they care for all those who have fallen ill.
Edward Crossan, Vice chairman of Powerday, commented: "We are honoured to be supporting those working on the frontline during this pandemic, they are true heroes. Thanks to the amazing teams at London Irish and Hazelwood, we have more than doubled the number of meals we are creating for NHS staff since we started, and we'll break the 100,000 barrier in just a few weeks' time. The feedback from nurses and doctors when we deliver to them is extraordinary. They are dealing with this horrendous disease in the most professional way and providing them with meals to keep them going is the least we can do."